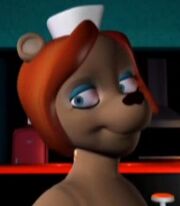 HoneyBeth is the tritagonist in
The Little Panda Fighter
.
The Little Panda Fighter
In this movie, she watches Pancada taking a crap in the pail. She then says "Mah boi!" and "Pandas" and she skates away. She is seen again later when she offers some kind of tissue to some snotty nosed bear and she then says that Freak Teddy is dreamy. Pancada then stands next to her smiling and she sees this and mocks him. The next day, she is sitting at the bar when Pancoda tries to smooth talk her. She rejects him and she then finds him in the basement raving to Justin Bieber. She then changes her mind about him.
During the fight between the Polar Bear guy and Fat Teddy, she flirts with the snotty nosed bear. She comes back the next day and she wants to see Pancada's butt Then, she is seen at the end of the film, dancing with Pancada. 
Events after the movie
Beth and Pancada get married and had a child named Pedo Bear
A couple days later Beth left Pancada to cheat on him with Polaris at his vacation because Pancada lost money and had a small dick
Trivia
She was HIV positive after numerous counts of sex with different bears including Master Xin, Pancada,Gizzlepuss,Polaris and Freak Teddy because she worked as a hooker before working at BearBarBox. Also she got fucked by the Furry Fandom almost 24/7 after they watched this film.
Personality Gallery