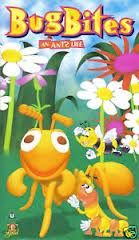 Bug Bites: An Ant's Life is a mockbuster made in 1998. It was the first 3D mockbuster and also the first made by Sterling Entertainment, Spark Plug Enterainment, and Michael Schelp. It is criticized for being a rip-off of A Bug's Life and Antz. It was later re-released on DVD in 2006.
The original 1998 VHS for this had the 1971 Aesop's Fables special as filler. This was replaced on the 2006 DVD with four additional public domain cartoons for the same reason. The cartoons that were included are Doggone Tired, To Spring, Teacher's Pest, and Farm Frolics. The filler cartoons are often considered by many people who watched it to be better than the film itself.
Ad blocker interference detected!
Wikia is a free-to-use site that makes money from advertising. We have a modified experience for viewers using ad blockers

Wikia is not accessible if you've made further modifications. Remove the custom ad blocker rule(s) and the page will load as expected.