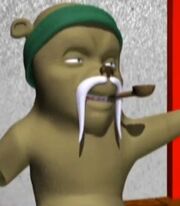 Master Xin is a supporting character in
The Little Panda Fighter
.
The Little Panda Fighter
Master Xin is a Master-Shifu rip-off. In the early 1960's, Xin was arrested for sexually assualting children. The charges were dropped and he was released in early 2007. Then, he stayed at Mario's Hotel where he got into a fight with Master Shifu. He was arrested again for assault and sent to jail until the release of The Little Panda Fighter.
In the actual movie, he watches excitedly as Pancada starts dancing. Xin liked this because he was gay and he liked watching Pancada dancing. Anyway, Xin was being perverted because he wanted to smell Pancada's cologue and he was interested in Beth.
Later on in the movie, we see him at the dance club with his friends where he hires Pancada as a pole-dancer. However, he doesn't like Pancada anymore after this because Pancada jumped.  
Personality
Gallery
Ad blocker interference detected!
Wikia is a free-to-use site that makes money from advertising. We have a modified experience for viewers using ad blockers

Wikia is not accessible if you've made further modifications. Remove the custom ad blocker rule(s) and the page will load as expected.