He is the father of Princess Soraja and ruler of an Arabian kingdom. 
Description
The sultan is a lazy man who does nothing but sit on a huge cushion.  He and his old adviser have to solve,very reluctantly, the problems of his people. Tired of all this stuff, he moves to Paris where he proclames himself King of Gypsies in the Court of Miracles.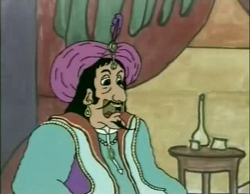 Ad blocker interference detected!
Wikia is a free-to-use site that makes money from advertising. We have a modified experience for viewers using ad blockers

Wikia is not accessible if you've made further modifications. Remove the custom ad blocker rule(s) and the page will load as expected.