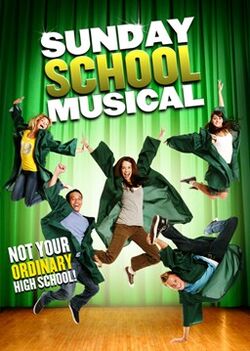 Sunday School Musical
is a musical film mockbuster released direct-to-DVD on October 21, 2008. It is similar to Disney's High School Musical franchise, but the film takes a dramatically different approach in terms of storyline.
Plot
When financial woes threaten their church's future, a group of teens, led by one talented performer, enters a song and dance competition in hopes of winning a heavenly cash prize.
Cast
Chris Chatman as Zachary
Candise Lakota as Savannah
Cecile de Rosario as Laura
Shane Carther Thomas as Jake
Dustin Fitzsimons as Charlie
Robert Acinapura as Miles
Amy Ganser as Margaret
Krystle Conner as Aundrea
Cliff Tan as Trevor
Thomas R. Nance as MC
Millena Gay as Zach's Mother
Riker Lynch as crossroad choir member
Rydel Lynch as crossroad choir member
Production
According to producer Paul Bales, the film was conceptualized after he and other staff members of The Asylum attended a seminar for marketing to a Christian audience. The seminar host suggested that the perfect movie would be a Christian version of High School Musical.
Reception
In 2011, That Guy With The Glasses reviewers Todd in the Shadows and Film Brain teamed up to review Sunday School Musical as a part of Matthew Buck's series "Bad Movie Beatdown". Todd, having been subjected to reviewing the High School Musical franchise in the past, thought the film was ironically better than what it was ripping off. He also compared some of the musical numbers to "80's T.V. sitcom themes" and "Savage Garden". Buck's character Film Brain pointed out that Zack not being able to attend the same choir was a "non-conflict" because, afterwards, he returned to the same rooftop on the other side of town. He also pointed out the differences in musical talent depending on race, saying jokingly that there may be some implication of racial stereotyping. In the end though, he did declare it to be one of the better films to be made by Asylum.
Videos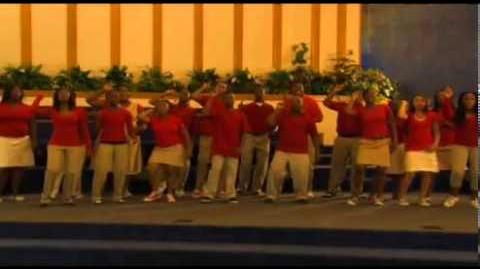 Ad blocker interference detected!
Wikia is a free-to-use site that makes money from advertising. We have a modified experience for viewers using ad blockers

Wikia is not accessible if you've made further modifications. Remove the custom ad blocker rule(s) and the page will load as expected.