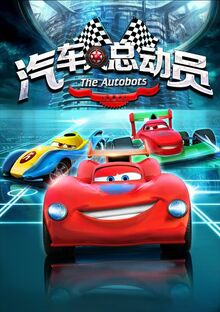 The Autobots
(Chinese: 汽车人总动员) (Pinyin: Qíchērén Zôngdòngyuán) is a Chinese animated film released on 2015 in China. it was produced by Blue MTv (Chinese: 厦门蓝火焰影视) and distributed by Beijing G-point (Chinese: 北京基点影视).
The characters of its poster was resembling a 2006 film Cars. Not only Lightning McQueen, but the Cars 2 racer Francesco Bernoulli was also copied.
It is having a sequel, The Autobots 2, in summer 2017.
Ad blocker interference detected!
Wikia is a free-to-use site that makes money from advertising. We have a modified experience for viewers using ad blockers

Wikia is not accessible if you've made further modifications. Remove the custom ad blocker rule(s) and the page will load as expected.